WHO WE ARE
Sunbuild has come a long way since Neil and Desley Sunners started in 1994, expanding quickly as the couple partnered with Jim and Pam Eadie to take on increasingly ambitious and successful constructions.
From those early, exciting first years, Sunbuild has become one of the great success stories in local construction, gaining a reputation as an innovator in the Territory.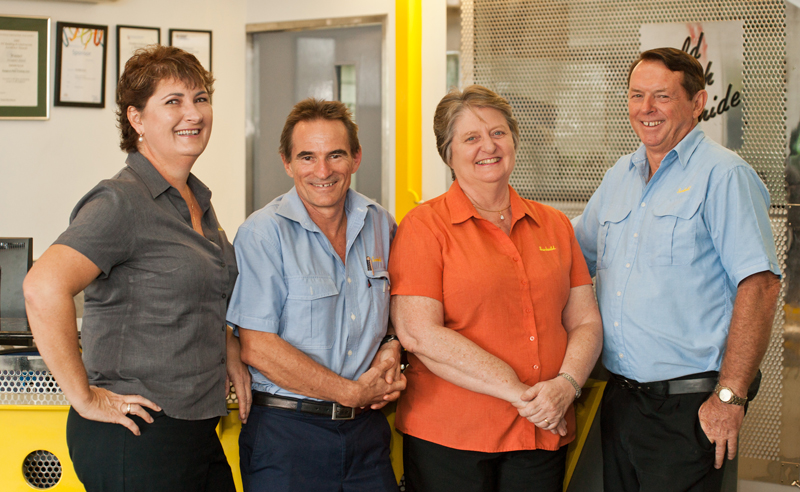 Sunbuild's 23 major Master Builder Association Awards are a testament to the business' unrelenting commitment to providing only the highest quality results. Among the company's many honours is The President's Award for the flagship project, Evolution on Gardner: Darwin's finest address.
During three busy decades Sunbuild has constructed over 230 projects, from $1 million to $88 million in value. Earning its reputation for excellence in commercial, residential, high-rise and industrial warehouse constructions, Sunbuild continues to go from strength to strength.
With Sunbuild, clients know they're guaranteed end-to-end coverage of all facets of construction, from vision to delivery. We have the ability to review client design drawings and then re-design them to a complete, more practical solution which gives the client a coordinated building as well as saving them money. A recent example is the Paspaley Pearl office building. We made the project commercially viable by saving $12M on an $88M project.
Sunbuild is proud to continue its impressive partnerships across all sectors including key private, corporate, education and Government clients. A consistent record of repeat business reinforces our reputation as the Northern Territory's premier builder.
Our commitment to remaining at the cutting edge of global construction techniques drives our team to innovate, attracting high-profile contracts and ensuring the best in productivity. Not only are our construction practices leading the industry; Sunbuild also invests in major construction plants and equipment, ensuring cost and operational efficiencies for our clients.
Our motto—'build with pride'—influences every aspect of our operations and is the reason Sunbuild tops the list of Darwin construction companies.
Sunbuild is committed to being a construction contractor known externally for quality, integrity, diversity and resourcefulness. We focus on profitability and employee satisfaction.
To deliver high-quality, cost-effective projects on schedule by employing and supporting motivated, flexible and focused teams. We value the importance of our relationships and remain fair and true with all employees, clients, suppliers, sub-contractors and partners. Our clients count on our dependability, drive and integrity. We take great pride in our accomplishments, repeat business and build on them every day.
Local and Privately Owned
We know the Northern Territory. With a 23-year history in the region, we've proudly developed Sunbuild into a business that not only boasts a unique understanding of the terrain, government and Territorians, but also provides major growth opportunities for local people and businesses. We are a product of our community and will never stop supporting it.
Sunbuild is a company that listens. Consultation is the key value that underpins our success and sets us apart from our competition. We pride ourselves on an ability to completely understand the needs of our clients. It's your vision and Sunbuild is here to guide you through every process from start to finish.
Diverse and Knowledgeable
With a track record of diverse constructions of all sizes, Sunbuild applies its impeccable quality and services to every project regardless of budget. Our qualifications, knowledge and expertise provide holistic solutions across a vast range of construction services. Technologically advanced, ethical and experienced practices guarantee your project is high quality, sustainable and safe.
There's only one way a company can boast such a high client retention rate: delivering all projects on brief, on budget and on time. Sunbuild has invested in local people and businesses, and our reward has been consistent excellence from contractors, suppliers and staff. Professionalism, quality and consistency are the foundations of our reputation as the finest of Darwin construction companies.
Sunbuild is the efficiency expert in the field, with a track record of groundbreaking constructions that have pushed boundaries and majorly contributed to the development of the industry. Constantly innovating and streamlining our techniques, we work closely with trusted partners to deliver cost and operational efficiencies without compromising quality. From our own tried and tested systems to new global construction techniques, Sunbuild provides world-class solutions.
Committed to training and growing our people
We're only as good as our people, and Sunbuild makes sure employees are given every opportunity to excel. By training and investing in every role, from apprentices to our leading Project Managers, we're not only continuing our reputation for quality constructions, but also proudly investing in the growth of the industry.
BEST PRACTICES
Our certifications, safety initiatives and involvement in the community
CERTIFICATIONS
At Sunbuild, we hold the following licences and registration:
NT Builder's Licencing Certificate
CAL Registration
Federal Safety Commission WHS Certificate
AS/NZS 4801:2001 Certification
Asbestos Removal Licence
SAFETY
Sunbuild is now a leader in the field of construction but we haven't lost sight of our humble beginnings. Our success is built on the excellent team we've employed and the careers we've developed. We care for and protect each other. Valuing your staff means a constant commitment to the management of workplace health safety and the environment.
Through constant consultation, we involve our staff in the analysis of risks and determine the best solutions. Sunbuild is 100% focused on growing a sustainable and profitable business for our customers, local community and the environment.Sunbuild is accredited in accordance with the Office of the Federal Safety Commission OH & S accreditation scheme.
Sunbuild is committed to ensuring an injury free environment for all our employees and subcontractors. Our management systems have been documented, implemented and independently certified, meeting the requirements of AS/NZS 4801:2001. View our AS/NZS 4801 Occupational Health and Safety Management Systems.
At Sunbuild we place a high priority on developing a management system that meets all AS/NZS 4801 requirements, FSC certification and relevant legislation.
The above documentation results in a safe working environment with a culture of strong health and safety procedures across all our sites.
COMMUNITY
Sunbuild is entrenched in the local community and passionately supports the following local and national charities, events and causes.
The Australia Day Ball
Top End Gran Fondo
Dragon's Abreast (Breast Cancer Research)
Movember
Northern Territory Police Department
Darwin Runners Club
Scouts
Cancer Council NT Relay for Life
Testimonial 4
Gaymark Investments Pty Ltd is a Darwin based property investment company which has been in business for over 40 years. Gaymark develops its own property portfolio and is a long term holder of its own properties. Quality of design and quality of build are fundamental inputs in our investment philosophy. Sunbuild has tendered for and won most of our construction projects in the NT in the last decade. We continue to enjoy a harmonious relationship, as they complete all our projects on time, with no outstanding disputes. The team also honour their building warranty obligations. The following projects have been successfully built by Sunbuild (approximate contract values (excluding GST) provided): $1.0M – 7 Fannie Bay Place $2.2M – 90 Ross Smith Avenue $2.0M – The Herbarium Palmerston $3.0M – 60 Smith Street Darwin $6.0M – 6 O'Sullivan Circuit, East Arm $3.3M – Palmerston Central (Stage 1) $9.5M – Winnellie Central $0.4M – 10 Knight Street Residence
Director, Gaymark Property Group
Testimonial 3
When it came time to building our new home, we did our research and decided Sunbuild was the building firm we wanted to use. A successful track record and the promise of a dedicated foreman onsite, gave us the confidence to move forward. Our home was different to the 'normal' house design, so we worked very closely with Sunbuild's qualified staff to choose the right finishes and fixtures. Sunbuild provided us with a decorating service, which was invaluable in helping my wife and I make confusing decisions. Importantly, our home was completed on time and on budget under the experienced eye of Rob Thompson Sunbuild's Site Foreman and Project Manager. We are very happy with the end result and our home was exactly as we dreamed 15 years ago. Another highlight of using Sunbuild is their excellent 'after completion' service. Sunbuild always listened and cared when we contacted them, fixing any issues that arose. We would highly recommend Sunbuild to prospective homebuilders and would certainly use them again.
Kypreos Residence
Testimonial 2
Sunbuild recently constructed a 20-unit student accommodation block for the Charles Darwin University (CDU) at our Casuarina Campus. The team were required to work adjacent to existing accommodation, ensuring minimal disturbances to the surrounding residential buildings. Project Manager, Rob Thompson and his crew were obliging in all management requests. The good quality workmanship and Sunbuild's pro-active nature ensured there were solutions to any issues that arose. The project was delivered on time and within budget. We'd be happy to use Sunbuild again on further projects.
Project Manager, Project: Charles Darwin University
Testimonial 1
Sunbuild have successfully completed multiple projects for our development company. The team's consistent high-grade performance has cemented them as our major construction partner for future works in the Northern Territory. Directors, Neil Sunners and Jim Eadie, have exceptional knowledge of all building techniques and sub trade detail. Sunbuild's unique position in the market is their ability to construct large-scale projects with their Directors personally involved in all facets of the construction, creating substantial value across all phases of the development. The Sunbuild senior management team contribute to the design phase, leading to improved finishes and cost reductions. As large-scale projects operate over extended time frames and construction issues will always arise, Sunbuild's culture of finding equitable solutions to problems, establishes them as a trusted partner of our company. Sunbuild operates its own construction plant and equipment (cranes, man material hoists and form works etc), offering client's greater flexibility, improved productivity and substantially reduction in project costs. Our group unequivocally recommends Sunbuild Pty Ltd for large or medium scale construction works.
Projects Director, Osborne Family Holdings Pty Ltd. Project: Spirit On The Avenue